Member Services
Member Services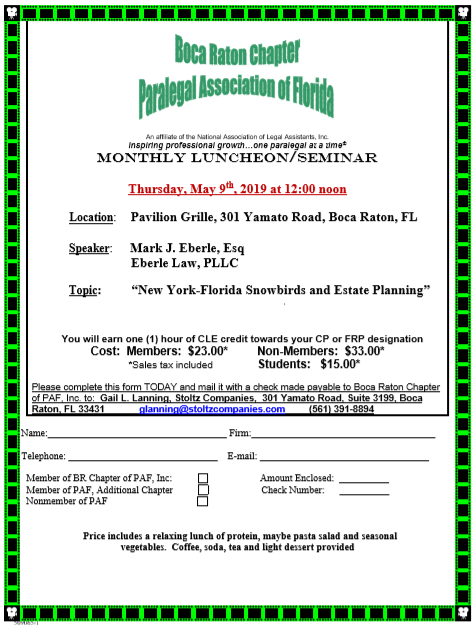 Boca Raton Chapter's May CLE Luncheon
May 9, 2019

The May CLE Luncheon is on May 9, 2019, at Pavilion Grille, located at 301 Yamato Road, Boca Raton, FL

Our speaker is Mark J. Eberle, Esquire, of Eberle Law, PLLC, presenting "New York - Florida Snowbirds and Estate Planning"

To acces the registration form CLICK HERE!
---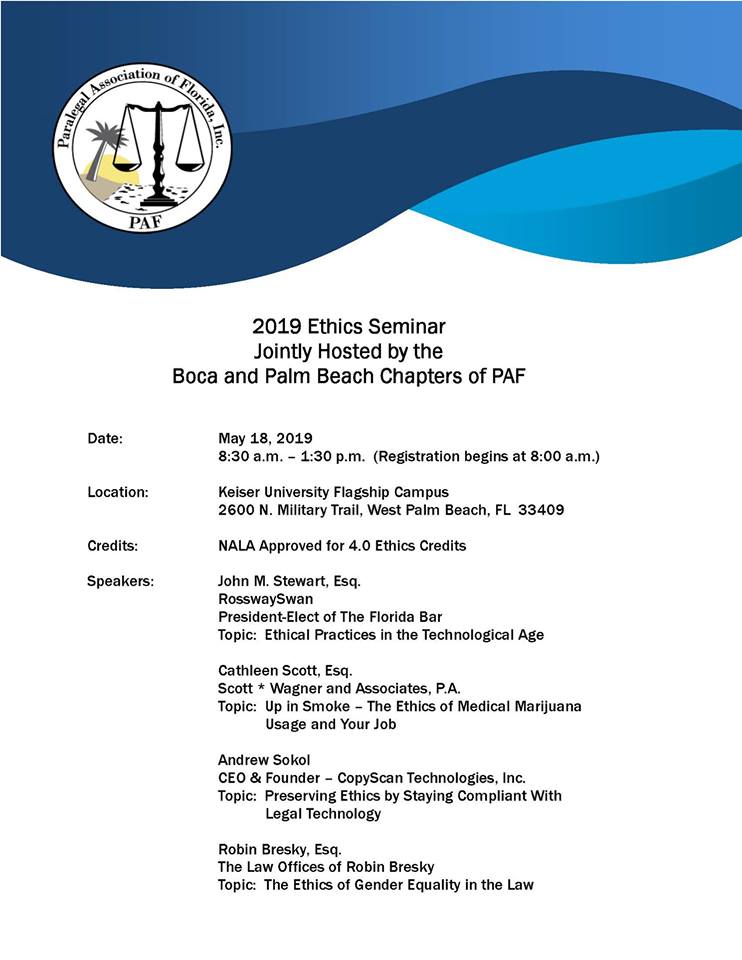 Boca Raton Chapter & Palm Beach County Chapter
1st Annual Ethics Seminar
May 18, 2019

The 1st Annual Ethics Seminar will take place on May 18, 2019, at Keiser University, Flagship Campus located at 2600 N. Military Trail, West Palm Beach, FL from 8:30 a.m. to 1:30 p.m.

Our speaker/topic line ups include:
Ethical Practices in the Technology Age - Presented by John M. Stewart, Esq;
Up in Smoke - The Ethics of Medical Marijuana Usage and Your Job - Presented by Cathleen Stewart, Esquire;
Preserving Ethics by Staying Compliant With Legal Technology - Presented by Andrew Sokol, CEDS, CSDS;
and The Ethics Gender Equality in the Law - Presented by Robin Bresky, Esquire
To acces the registration form CLICK HERE!
---
The Boca Raton Chapter – Member Benefits Include:
Luncheon seminars are held at the Pavilion Grille, 301 Yamato Road Building, Boca Raton, FL.
Charitable events and those organizations the Boca Chapter has formed relationships with to insure to the benefit of local charities located in Boca Raton.
Networking opportunities coupled with notification on job openings/listings in the Boca Raton metro area.
Annual seminar(s) focusing on ethical issue(s) facing paralegals.
Member pricing to other chapter PAF events and seminars.
Membership is available in several categories. Click here for more details.

For up to date information, feel free to visit our Chapter Facebook page at: Facebook – PAF Boca Raton Chapter
---